Daily Workout
Daily workout emailed by American Parkour Academy
There is no such thing as a great talent without great will power. -Honore de Balzac
May 10th - Pittsburgh, PA Steel City Ladies Jam
May 10th - National Milwaukee Parkour Jam
May 11th - Bel Air, MD Annies Playground Jam/Gathering
May 11th - Atlanta, GA The Dirty South Parkour Championship
May 25th - Washington, DC, (B)east! Coast Jam
Have an event?
events@americanparkour.com
Leave NO Trace
We've picked up 340 bags of trash. Check out APK's outreach and charitable initiatives and see how you can help here.
APK Login
We have 127 guests and 2 members online
American Parkour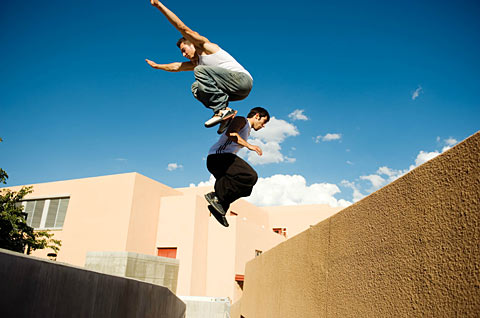 A Ney York photographer recently photographed several traceurs in action.
To find out what she thought about Freerunning and view more pictures click read more...
Sebastien Foucan was eliminated from the reality TV sho dancing on ice. Despite a strong run and great comments from the judges about his "intensity" and "power" a lapse in concentration ended his run.
To find out more click read more...
<< Start < Prev 91 92 93 94 95 96 97 98

99

100 Next > End >>


Page 99 of 945