Daily Workout
Daily workout emailed by American Parkour Academy
People are only mean when they're threatened, and that's what our culture does. That's what our economy does. -Mitch Albom
May 10th - Pittsburgh, PA Steel City Ladies Jam
May 10th - National Milwaukee Parkour Jam
May 11th - Bel Air, MD Annies Playground Jam/Gathering
May 11th - Atlanta, GA The Dirty South Parkour Championship
May 25th - Washington, DC, (B)east! Coast Jam
Have an event?
events@americanparkour.com
Leave NO Trace
We've picked up 340 bags of trash. Check out APK's outreach and charitable initiatives and see how you can help here.
APK Login
We have 121 guests and 9 members online
American Parkour
The above video is probably not going to be the best video you watch today but is probably one of the most impressive.
Find out what makes this video so amazing by clicking read more!!!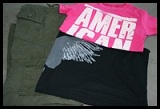 Brooke Bjerke, the person behind the Caitlin Pontrella interview, recently published an article about Parkour clothing do's and don'ts on yahoo.
To find out what she thinks you should wear while training click read more...
<< Start < Prev 51 52

53

54 55 56 57 58 59 60 Next > End >>


Page 53 of 945