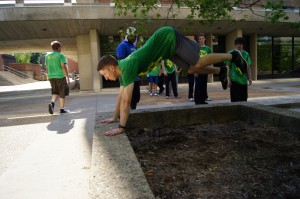 "The students and instructors at Wisconsin Parkour were drawn to the viral videos of people sprinting across European cityscapes. But Wisconsin Parkour instructor Alissa Bratz said the parkour they teach is not about flashy stunts."
To read more about Wisconsin Parkour, how they teach and what they do click read more...
"It's sort of like the shiny lure," Bratz said of parkour's online fame. "One day maybe you'll be able to do that, but until then it is really hard work."
In the real world, Bratz said parkour is closer to your standard exercise program than it is to high-flying acrobatics or movies like the French film "District B13," which drew her to parkour.
In fact, Bratz said while those videos are the main way people are introduced to parkour, they ironically contribute to a negative perception of the discipline.
What Wisconsin Parkour does is all about moving most efficiently through space.
"The ultimate goal for me is to get anywhere I need to get, really fast," said Jon Allen, another Wisconsin Parkour instructor. Bratz jokes that it's the kind of skills that will help you get away in the event of a zombie outbreak.
Those are the kind of skills — zombie-related or otherwise — Wisconsin Parkour emphasizes.
On a summer afternoon on the UW-Madison campus, the group meets in a courtyard between the Russell Laboratories and Steenbock Library for one of its twice-weekly outdoor practices.
The class of five, with Bratz as the instructor cycle through several exercises.
They climb up brick walls about seven feet high, crawl their way along concrete ledges, hop through gaps in metal railings and vault off concrete fixtures in the plaza and nearby loading dock.
The classes are open to anyone at any skill level, and are held outdoors at Steenbock and the Capitol Square, or indoors at Gymfinity in Fitchburg.
Instructors this month traveled to Europe to train in London and the Paris suburbs where the discipline was born.
Video of the day's exercises at Steenbock would never get a million hits online — in fact, the practice earns little more than confused looks and occasional questions from passersby. What it does, though, is drench participants in sweat and leave a number of them out of breath.
Bratz and the class' members don't look like Hollywood stunt men, and they aren't trying to. What they're after is a good workout.
In another sense, they're also getting a new way to explore their environment.
Bratz calls it her "parkour eyes": The different way she views the world since she discovered the discipline in 2007.
As Allen puts it, railings and walls no longer confine you — thanks to parkour, anything in your environment is something to climb on or slide through or jump over.
"You see possibilities everywhere," Bratz said. "The whole world seems like a playground all of the sudden."
If you go
To find out more about Wisconsin parkour check head to their website.
To see the original article click here.
Written by Patrick Witbrod
Saturday, 11 August 2012 11:01